Migrating from Windows 8 and 8.1 to Windows 10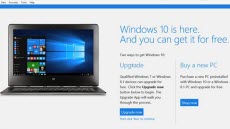 Год выпуска: 01/2016
Производитель: Lynda
Сайт производителя: lynda.com
Автор: David Rivers
Продолжительность: 0:30
Тип раздаваемого материала: Видеоклипы
Язык: Английский
Описание: Get a quick, safe, step-by-step approach to upgrading Windows from version 8 or 8.1 to 10. See how to transfer files, save settings and file backups, and determine the best data migration option for any system. Also get timesaving tips and tricks for a smooth transition.
Как плавно перейти с "восьмерки" на "десятку".
Introduction

Welcome
System requirements
What you need to know before watching this course
Preinstallation Tasks on the Windows 8 Computer
Create a system backup
Disable unnecessary security software
Make space for the upgrade
Ensure you have a Microsoft account
Explore ways to upgrade
Steps to upgrade to Windows 10

Postinstallation Tasks on the Windows 10 Computer

Navigate the new Windows 10 UI
Customize privacy settings
Clean up temp files with Disk Cleanup
Set System Preferences for updates