Microsoft Azure 70-532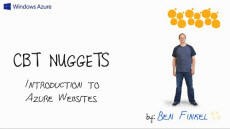 Год выпуска: 2015
Производитель: CBT Nuggets
Сайт производителя: www.cbtnuggets.com
Автор: Ben Finkel
Продолжительность: 9:27:00
Тип раздаваемого материала: Видеоклипы
Язык: Английский
Описание: 70-532: Developing Microsoft Azure Solutions is an introduction to the various components that make up the Microsoft Azure platform. As a developer-focused course, these Nuggets will address these features from the perspective of an aspiring or experienced web developer. This course also will help you prepare for the certification exam, by covering each course objective, as well as demonstrating practical applications for using these features.
The 70-532 exam and this course cover the following general topics: Implementing Websites, Creating Virtual Machines, Implementing Cloud Services, Designing an Azure Storage Strategy, and Azure Virtual Networks.
1. Introduction to Azure Websites (21 min)
2. Azure Websites: Deployment Slots (17 min)
3. Azure Websites: Hosting Plans (13 min)
4. Azure Websites: Site Settings (17 min)
5. Azure Websites: Custom Domains and SSL (15 min)
6. Azure Websites: Diagnostics and Debugging (21 min)
7. Azure Websites: Monitoring and Alerts (14 min)
8. Azure Websites: Scaling (12 min)
9. Azure Websites: Traffic Manager (17 min)
10. Azure Websites: Resilience Patterns (11 min)
11. Azure Websites: WebJobs (8 min)
12. Introduction to Azure Virtual Machines (10 min)
13. Azure Virtual Machines: Creating New VMs (10 min)
14. Azure Virtual Machines: VHDs, Disks, and Images (16 min)
15. Azure Virtual Machines: Custom Extensions (11 min)
16. Azure Virtual Machines: Networks and Cloud Services (12 min)
17. Azure Virtual Machines: Endpoints, ACLs, and Load Balancing (19 min)
18. Azure Virtual Machines: Scaling and Availability (13 min)
19. Azure Virtual Machines: Storage Planning (19 min)
20. Azure Virtual Machines: Diagnostic Measurements (10 min)
21. Introduction to Azure Cloud Services (14 min)
22. Azure Cloud Services: Building Cloud Services (14 min)
23. Azure Cloud Services: Scaling Cloud Services (13 min)
24. Azure Cloud Services: Endpoints (15 min)
25. Azure Cloud Services: Network Traffic and ACLs (9 min)
26. Azure Cloud Services: Networking (17 min)
27. Azure Cloud Services: Managing Websites (12 min)
28. Azure Cloud Services: Local Storage (11 min)
29. Azure Cloud Services: Diagnostics and Debugging (12 min)
30. Introduction to Azure Storage (10 min)
31. Azure Storage: Storage Accounts (9 min)
32. Azure Storage: Containers and Blobs (12 min)
33. Azure Storage: Advanced Blob Features (11 min)
34. Azure Storage: Tables (13 min)
35. Azure Storage: Queues (11 min)
36. Azure Storage: Access Control (16 min)
37. Azure Storage: Monitoring (10 min)
38. Azure Storage: SQL Databases (9 min)
39. Azure Integration: Azure Active Directory (19 min)
40. Azure Integration: Virtual Networks (8 min)
41. Azure Integration: Service Bus (16 min)